Are you struggling with eczema and looking for a naturopathic medicine doctor in the Silver Spring, MD area? Second Nature Health can help! Eczema is a miserable and annoying issue to deal with for many people. Dr. Hayduk at Second Nature Health offers naturopathic medical practices that can help. If you are looking for someone to help, look no further.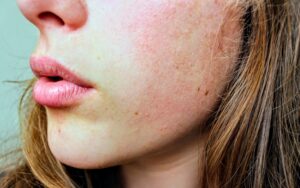 How We Can Help
Naturopathic medicine is a natural approach to healing and wellness. Homeopathic remedies are based on using natural healing avenues in every way possible to restore health and order to a patient and their symptoms. Naturopath doctors such as Dr. Hayduk will examine each patient using their medical history and current symptoms to find the root cause of issues, and then tailor a treatment plan for each patient. Eczema can be a chronic skin condition affecting the whole body, which is why a patient-tailored treatment plan is best.
There are many illnesses and symptoms that can be treated with holistic treatment. Eczema is a rash referred to as atopic dermatitis. Different topical solutions can aggravate it, environmental aggravates, and foods. 
At Second Nature Health, we focus on our patients and their specific needs. We are a relatively straight-to-the-point and straightforward type of establishment. Dr. Hayduk will do a thorough examination and talk with you about your options. The steps that are followed from there are typically eliminating known triggers to find the root cause of your problem. And we have helped eczema patients before feel and look better than ever!
We Provide Services In Silver Spring, MD
Silver Spring, Maryland is a great community located in Montgomery County. Washington, DC is just a short distance away. The population is greater than 80,000 residents. It is a well-known area and a great place to live. 
This unique and fun community got its name from the discovery of mica-flecked spring many years ago. There are many historical and famous spots in this town that are popular to sight-seers, such as the National Museum of Health and Medicine and the AFI Silver Theatre. We are always pleased to help and work with the people from Silver Spring. 
Contact Second Nature Health Today 
If you are ready to take care of your eczema troubles with Dr. Hayduk, call Second Nature Heath today. Our office is located in Rockville, MD, and we welcome anyone from the surrounding communities. We would be honored to help you with any questions that you have for us. If you're looking to get help from an eczema naturopathic medicine doctor in the Silver Spring, MD area, call us today to schedule your first appointment!